Page maybe a little slow to load
Please be patient..thank's!
Error sending/picking up flowers should be reported here or
at this address
More choices




Before you leave and go on to the next page,
please sign my book, thank's!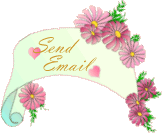 Background and buttons made by ME,
so please don't take it without my permission! Thanx !

Brought to you by Personal Postcards.
Sign up for your own free postcard service!
[ Home |About Me | Pick Flower | Fun | My Award | Ring ]
[ Link | My Friends Banner | Chat Room | Search Engine | Guest Book | Email ]